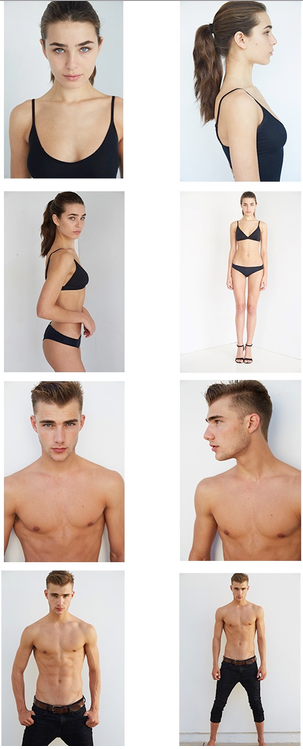 ARE YOU INTERESTED IN BEING REPRESENTED BY WHITE CROSS? WHITE CROSS REPRESENTS ALL DIFFERENT TYPES OF PROFESSIONAL TALENT AT ALMOST EVERY AGE, SIZE, AND ETHNICITY.
YOU CAN SUBMIT PHOTOS AND A 15-20 SECOND SLATE VIDEO ALONG WITH YOUR NAME, MEASUREMENTS (HEIGHT, WEIGHT, BUST, CHEST, HIPS, WAIST), AGE, HAIR COLOR, EYE COLOR, A CONTACT PHONE NUMBER, AND ADDRESS TO INFO@WHITECROSSMANAGEMENT.COM
HEIGHT REQUIREMENTS: FOR FEMALE TALENT IT IS 5'8 (173 CM) AND ABOVE; FOR MALE TALENT IT IS 6'0 (183 CM) AND ABOVE.
PHOTO REQUIREMENTS: PROFESSIONAL PHOTOS ARE NOT NECESSARY - SMART PHONE PHOTOS ARE PREFERRED, HAVE A FRIEND OR FAMILY MEMBER TAKE THEM FOR YOU. WE REQUEST THAT YOU SEND AT LEAST A CLEAR FULL FACE HEAD SHOT, A CLEAR FULL LENGTH BODY SHOT, A CLEAR SHOT FROM THE WAIST UP, A SMILE PHOTO, AND A PARTIAL PROFILE SHOT. PLEASE SEE THE PHOTOS TO THE RIGHT FOR YOUR REFERENCE. THE MOST IMPORTANT THING IS THAT WE SEE A NATURAL YOU. NO MAKE UP IS NEEDED.
PHOTOS SHOULD BE NO LARGER THAN 1000 PIXELS IN HEIGHT OR WIDTH. WHITE CROSS WILL ONLY ACCEPT FILES THAT ARE SMALLER THAN 1 MB.
VIDEO REQUIREMENTS: PLEASE SEND US A 15-20 SECOND SLATE VIDEO STATING YOUR NAME, HEIGHT, AND WHERE YOU ARE FROM. THE VIDEO SHOULD FEATURE A CLEAR PROFILE SHOT FROM THE WAIST UP AS WELL AS A CLEAR FULL LENGTH BODY SHOT. THIS DOES NOT HAVE TO BE A PROFESSIONAL VIDEO AND NO MAKEUP IS NECESSARY.
MODEL SEARCH SUBMISSIONS: UNFORTUNATLY DUE TO HIGH VOLUME WE ARE ONLY ABLE TO CONTACT THOSE MODELS OF INTEREST. IF WE ARE INTERESTED, THEN WE WILL CONTACT YOU. DO NOT LOSE HOPE. YOUR LOOK MIGHT NOT WORK FOR OUR AGENCY AT THIS PARTICULAR TIME, BUT WE ENCOURAGE YOU TO RESUBMIT YOUR PHOTOS AFTER SIX MONTHS.
GOOD LUCK!